Title:
The Ambiguous Antichrist
Author:
dangerousdame
Pairing & Fandoms
: Violet - A Series of Unfortunate Events / Adam - Good Omens
Rating:
PG
Spoilers:
Not really.
Warnings:
If the entire premise of
Good Omens
doesn't offend you, this won't either.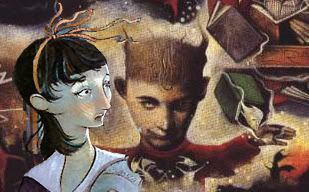 "Whaddaya mean?", asked Adam innocently. "He was
always
a frog."
Violet looked down at the tiny amphibian hopping angrily between them.
"A frog with a large marking above his eyes that suspiciously resembles an eyebrow?"
Adam shrugged, and Violet couldn't quite help smiling. She made a mental note to ask Klaus what he had read about Satanic magic.
Surely it couldn't be
all
bad...